Our Software courses are designed by top industry experts focusing on the in-demand skills in IT sector. We offer extensive training in Full Stack Web Development, Python, Artificial Intelligence, Data Science, Machine Learning, Java, .Net , PHP, and android technologies along with their multitude of advanced frameworks. Our expert instructor-led, project-based curriculum helps you to accelerate your career as a successful software professional. Remote training is available.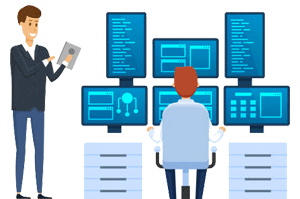 The Networking Courses at TESRO are created by network professionals covering a plethora of vendor technologies from Cisco, Microsoft, Redhat, & Amazon. Our certification training programs include CCNA, CCNP, MCSE, Azure, AWS, and much more. Our real-time lab consists of real network hardware, virtual machines, and security appliances that let you encounter the real-world network infrastructure. Our Advanced Network training is backed by live projects.
TESRO provides you with tailored internship programs that are based on live projects. It is designed to provide a meaningful industry experience that furthers your education as an IT professional. The Internship program is an initiative to fill the gap between the information learned in universities and the actual IT environment. An internship is a great way to complement your academic degree and to enhance your resume. Join us to find your edge in the job market.
CORPORATE TRAINING
Our Employee training and development solutions integrate consulting services, advanced learning technologies, and engaging content to provide a comprehensive and more effective learning experience. Upskill your workforce with hands-on training for enhanced productivity.
IRTI Lab
The IRTI Lab is designed to empower learners and knowledge seekers to truly engage and achieve mastery over their respective technology by providing a real-time experience. We personalize learning for each individual keeping their own specific learning goals in focus and develop strategies for effective learning.
HR & PLACEMENTS
Our HR and Placements team works relentlessly, helping students to develop their interpersonal and organizational skills thereby enhancing their value for the prospective employers. We are committed to act as a bridge between skilled students and the IT industry.
TESRO LEARNING TECHNOLOGIES